If I said it once...I've said it twice...I LOVE YOU PINTEREST...well...once again...my love affair has inspired another quick, easy and oh so cute update to one of my lampshades...First...here is my pinspiration, by Margo at Joyful Homemaking....so adorable:
She made the transformation from plain lampshade to what you see so very easy...I had to try it out myself on one of my lampshades that I have been wanting to change out myself. I purchased this lamp at a garage sale for next to nothing because I loved the lamp...lampshade...ummm...not so much. I had considered replacing the lampshade until now. Even if I messed it up, I knew it couldn't have been any worse...but, I wasn't disappointed!!!
This is seriously one of the easiest projects EVER...but, such a great impact!!! So, here is a before shot of what I had to work with:


Since the directions are fairly self explanatory, no in between shots. But, I simply chose scripture that I wanted on the shade (I chose some some of my favorite scriptures regarding hospitality and fruits of the spirit in the Bible). (If you are wanting to repeat this project...you could choose scripture/poem/song, etc.). Then, beginnig at the seam at the top of the lampshade, I began writing with my Fabric Sharpie in Black, and simply continued around the lampshade...until the end. After I was finished writing all of the scriptures, I hotglued three rows of jute twine on both the top and bottom edges for extra decor...this was just my preference...So, HOW EASY is that. It took maybe 1-1.5 hours to do this...all while sitting and checking out a show on television!! Here is the finished lampshade pix: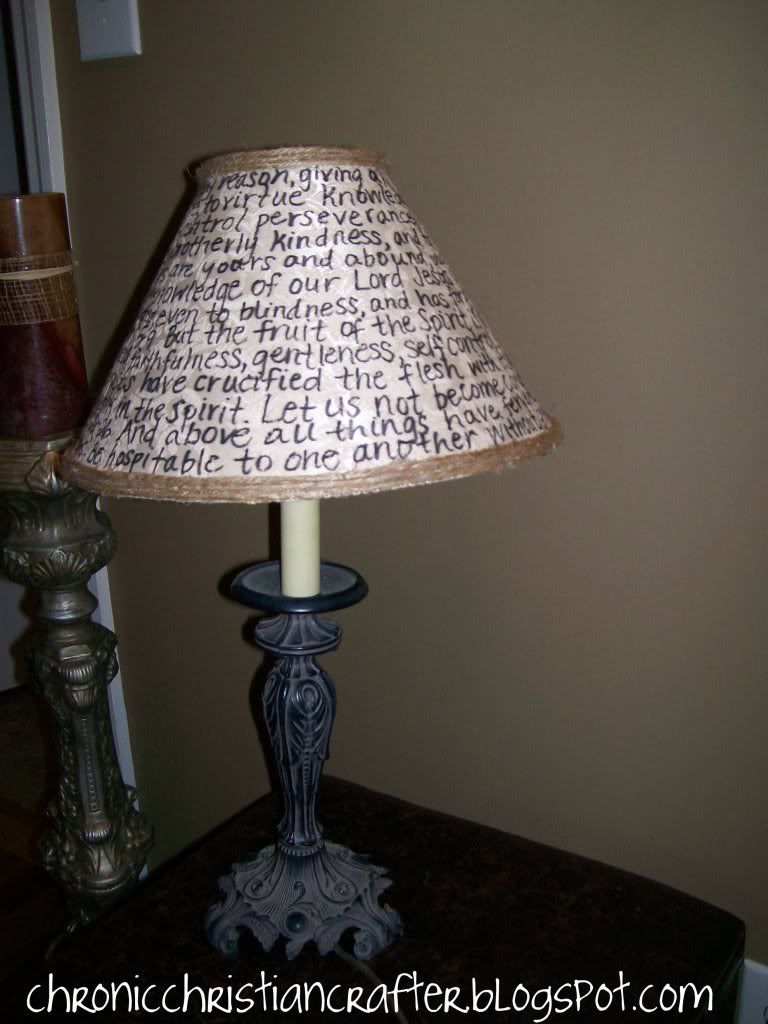 So...quick, easy, and cheap...can't beat that!! My kind of project!!! What do you think? Thanks once again Pinterest!!!

See my Blog Hop/Linky List party page in my tabs section and link below for all of the wonderful parties and blogs that I link up with each week!!!