Well...I gave in to the pressure...I decorated my mantle with some Valentine decor. Growing up, Valentine was never a big holiday/occasion in my home...so, I guess that has carried over into my adulthood years you could say. Sure, my husband and I will celebrate...but, no big production here! In addition, with no little kiddos and just my hubby, me, and the little fur baby..."going all out" on the Valentine decor seemed a little excessive. I mean...I just got finished putting up my favorite decorations (Christmas!!!)...But, since I have seen all these wonderful ideas floating around in the blogosphere and on Pinterest...why not spruce up the mantle for the "love" holiday?
See...I didn't go "all out"...but, when my hubby came home from work after I got finished decorating, he noticed it right away. First thing I have to say...I invested very little money into this makeover. Second thing I have to say is...I didn't have to invest a ton of time as well. So...this was GREAT all the way around!!!
I found the two clear vases with various "Love" fonts at the Dollar Tree ($1/piece), and a bag of red decorative beads at the Dollar Tree (still have leftover to use on other projects). As for the wreath and bows around my candlesticks...those are red cocktail napkins...also purchased at the Dollar Tree. I purchased the wreath form for a $1 at the Dollar Tree as well. Here is a picture of the materials I used to make the wreath:
I first wrapped the wreath with some of the cocktail napkins just to ensure that none of the wreath form showed through (pinned them in the back with a sewing pin). Then I twisted each napkin as in this picture:
Next, I poked a hole in the wreath form with a pen and filled it with hot glue, so that it would stay in place after I placed it in the hole that I made in the wreath form from the pen. Then, I just added a bow to hang it with.
I believe in total, this project took me maybe an hour to one and half hours max. I really didn't pay attention because it was super fun and easy. Afterwards...the wreath was full and I believe very lovely!! I plan to make more of these with more holidays due to the inexpensive cost and the ease of it!!! What do you think?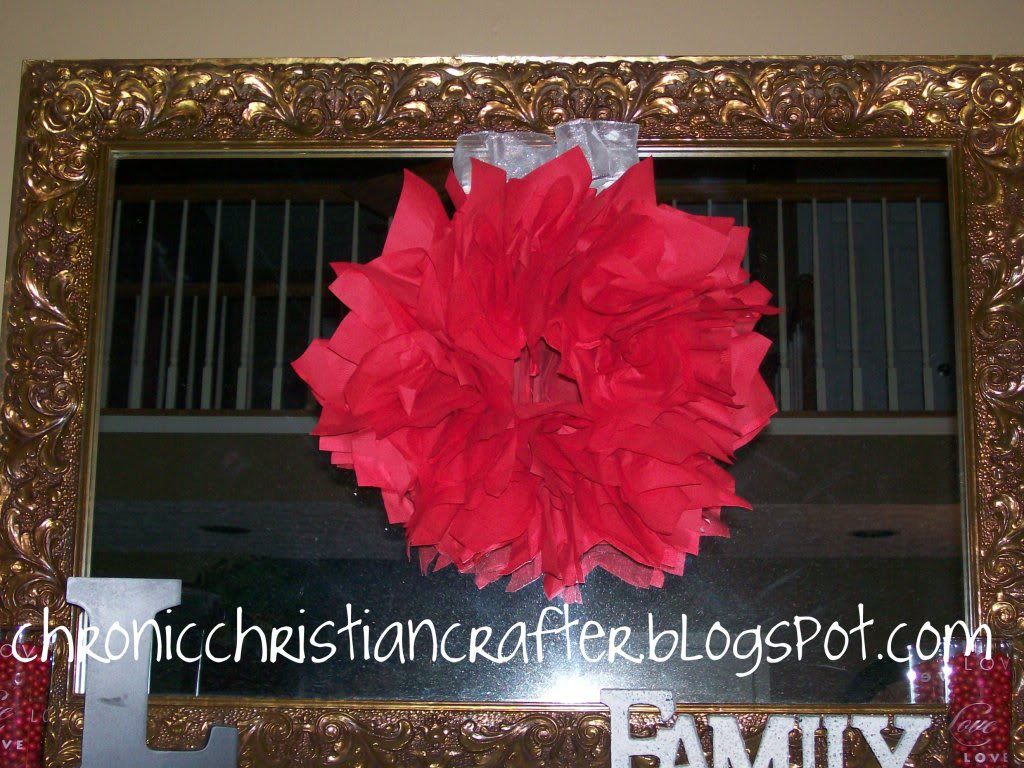 What simple and inexpensive ideas have you incorporated for Valentine's Day or other holiday decorating? I love that this was simple, inexpensive...yet added a punch of color and showed a lot "love" to the Valentine holiday!
"Whoever does not love does not know God, because God is love." 1 John 4: 8
See my Blog Hop/Linky List party page in my tabs section and link below for all of the wonderful parties and blogs that I link up with each week!!!