Recently, my husband and I have had some friends get married as well as friends welcome a new addition...and what is more thoughtful than homemade gifts?
So, the "little bundle of joy" came early, and we were so happy for our friends. Due to the early arrival, we were able to customize the gift with the actual date of birth. I used my new Silhouette CAMEO machine to cut out both the name and date of birth in differing vinyl letters and colors. I took a plank that we purchased from Lowe's, cut it, sanded the edges, painted it, applied the vinyl lettering...and VOILA: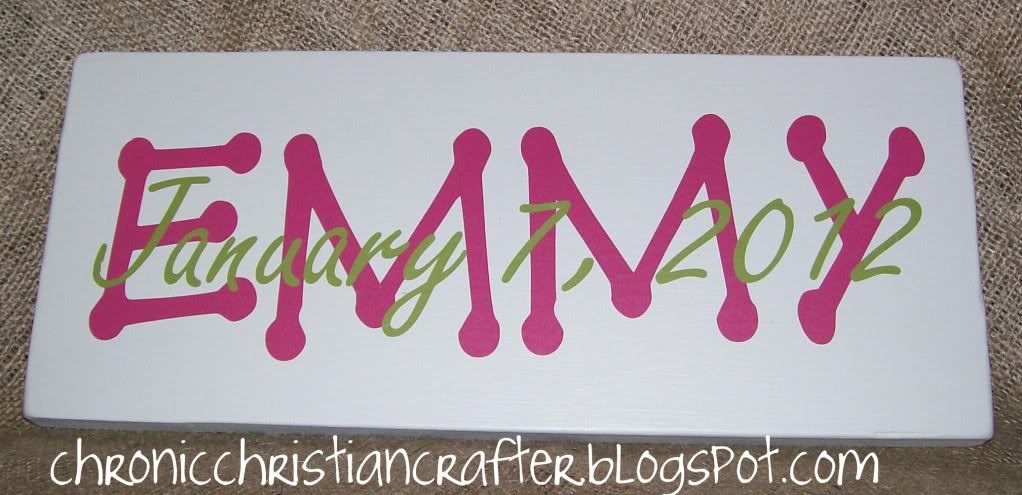 How cute is that? They were SO happy to have something customized with their daughter's name and birthdate! Plus, it was from the heart. Also, I have found that if you purchase a long plank (pick the size you want) from the hardward store...you can make several signs...very economical (yeah!!).
The next personalized, heartfelt gift that I've recently completed was for a couple that was uniting in marriage. I took a 12" x 12" canvas and covered it with some grey damask scrapbook paper via modpodge (first I checked to see what colors were used by the couple so it wouldn't clash...grey, black and white). Then, I used my Silhouette CAMEO machine once again to cut out the vinyl for this piece (the large"D", the last name, and the year married). Next, I just applied the vinyl and super glued the fleur de lis ribbon to the top as seen in the picture...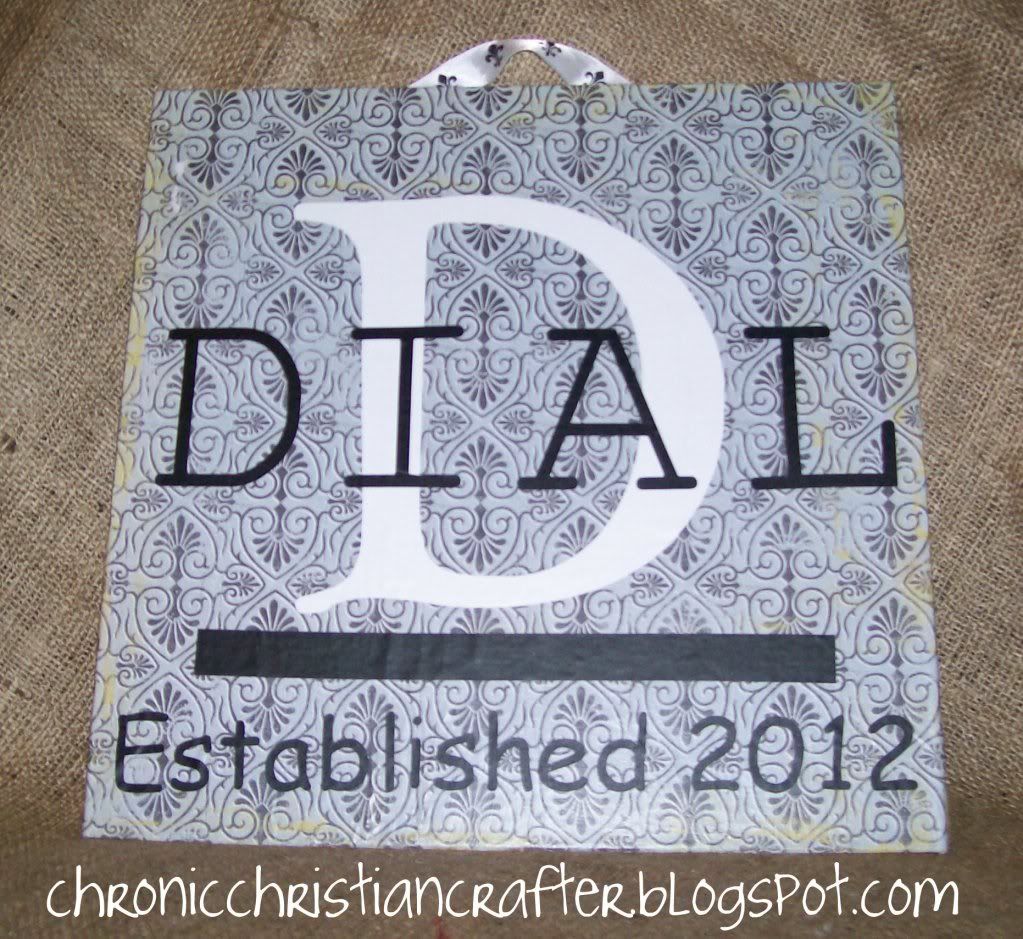 And, there you have it...another heartfelt gift for the happy couple!
Hopefully, these will provide you some ideas that maybe you could incorporate for your own use! I loved making these...knowing that they would be blessing a new family and new "little one"...do you enjoy making heartfelt gifts for others?
"If the willingness is there, the gift is acceptable according to what one has , not according to what he does not have." 2 Corinthians 8: 12
Please refer to my tab at the top of my page "blog love" that contains my list of lovely blogs and blog link ups that I often choose to link up with each week. The direct link is:
http://chronicchristiancrafter.blogspot.com/p/blog-hopslinky-lists.html