PLEASE READ THIS POST, EVEN IF YOU NORMALLY DON'T READ ALL OF THE FEATURE POST INFO...PLEASE READ ALL OF THE BOLD PRINTED INFO...IMPORTANT INFORMATION!!!
My favorite part of the week again...Feature Time!!! I love visiting the link-ups each week, meeting and being introduced to new blogs and being inspired by the projects that are linked up to each Toot Your Horn Party...it has been such a blessing to co-host this party with my friend, Debbie. However, I did say I have an important announcement...
If you have been following me for more than about a month and a half, you would know that I've had a rough go the past few weeks...without going into details I'll just say surgery, family issues, death of a very close family member as well as ongoing chronic illness (which has been aggravated by all of the above). ANYWAY...when I started this blog, my primary purpose was to encourage and inspire others...whether via a short encouraging/inspirational type post or via crafts/recipes/home decorating that I enjoy doing when I feel well enough (which helps keep mind away from pain). Obviously, events of the past few weeks have occupied some of my time and taken me away from being able to focus as much on developing the types of posts that I use to pour MANY HOURS into. HOWEVER, I continued to diligently bring the Toot Your Horn Party and Features each and every week...throughout this whole time. I have a healthy respect for anyone hosting link parties (especially those that comment on link-ups to their party, because not everyone does)...because it requires a tremendous amount of work behind the scenes; and, I had an amazing co-host.
Since I have been having to devote SO MUCH time into the party, and not being able to develop my blog toward my original purposes and goals...I began praying and contemplating whether I should continue co-hosting the party or maybe not blog? I've prayed and prayed...not wanting to make a hasty decision. I have had several e-mails, personal comments, etc. regarding how my posts (before I began co-hosting the party) made a personal impact...however, I feel like I've neglected my followers that began following the blog due to its original purpose (in fact I've lost some...and, I believe it is due to this very fact). But, due to everything going on, I've basically only been able to post the party and features, and no encouraging/inspirational posts or even craft/DIY, etc posts. The only posts I was able to develop for the blog recently (at least for the past month or so has been related to the Toot Your Horn Party). This makes me sad.
So, after much prayer and careful consideration, as well as discussing this with my husband to obtain an outsider's point of view, I have decided that I will no longer be co-hosting Toot Your Horn Tuesdays. Today will be my last feature post, and I will not be posting a link up to the party tonight. Debbie has all the contact information for everyone that has been linking up, so if you were linking up via my blog, you will now need to link up via Debbie's blog @ Debbie Does Creations if you want to join the party. I will still support this party completely as I believe it is one of the best, and Debbie is one of the sweetest around!!! I just want to be able to "get back to basics" I guess you would say!
Thank you to ALL OF YOU! I appreciate your sweet comments. You never know how much that means sometimes. I look forward to bringing you some projects and some encouraging posts within the week! Those of you that I've met via the party...I'm SO GLAD!!! Thank you to each of you for your support! Much love to you all!
Now, onto the great features from last week's party!
Don't forget that Debbie and I each do separate features. So, head over to Debbie's blog @
Debbie Does Creations
to check her features and see if you were featured with her as well.
Please remember if you would like to "pin" any of these features onto pinterest, please visit the individual blogs and pin directly from there to ensure proper creative credit. Do not pin from this blog post.
I love this jute webbing mat tutorial that Aimee @ Twigg Studios posted. Aimee always shares amazing tutorials, and this one lives up to all her others. I love the natural materials that she used. I envision so many different uses for this mat...LOVE IT!!
I LOVE playing cornhole, and I've been wanting a set for a long time. However, people ask an arm and a leg for these sets...not in my budget! Anyway, I was truly excited to see Crafted Niche shared her cornhole saga, with a link tutorial...YEAH!!! Maybe I (i.e. my handy husband) can build my cornhole set after all...on a budget no less!
I appreciated the posts that Simply Living Loving Learning shared last week, and I really enjoyed this post regarding "What are your dreams?" I appreciated the insight, encouragement, and applied knowledge shared...a must read and great post.
I've stated over and over again that I love sayings and quotes/typography throughout my home...so, of course I fell in love with There Was a Crooked House's post regarding her DIY laundry room art. Love the simplicity and the use of typography...so cute!
Love Grows Wild shared what looks to be one of the most delicious muffin recipes I've seen in a while...my mouth is watering! I'm definitely going to have to try out this Chocolate Chunk Muffin recipe as it looks divine! YUMMY!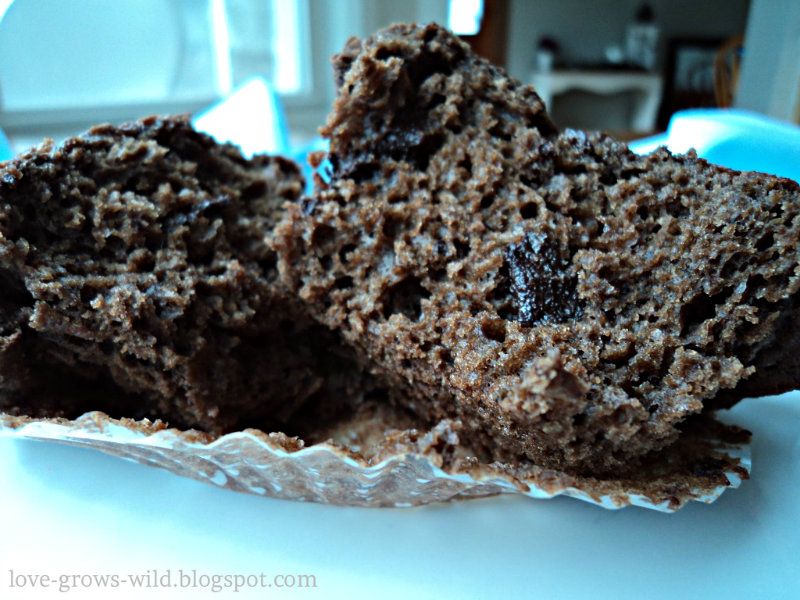 Congratulations if you were featured, and a big "thank you" to each of you who linked up! Hope you enjoyed the features. Grab your
featured button
from my sidebar to display on your blog!
If you enjoyed what you have read here, feel free to subscribe to the blog (if you haven't already). I would love to have you!